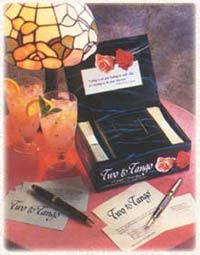 Two To Tango

Two to Tango is a couple's Wish Box for Sharing Wonderful NewThings Together.

For any couple, any age - a perfect gift for weddings, anniversaries, birthdays, Christmas, Valentine's Day or "just because." With the Two to Tango Couple's Wish Box and a little imagination, you'll be able to share your wishes, make each other's dreams come true, and capture the "magic" that keeps couples close and the imagination alive!

Included are 300 wish cards (one for each of you), and 50 blank cards for additional wishes.

PPG8001TTT $24.95