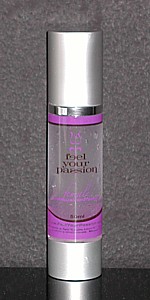 Feel Your Passion is a revolutionary new gel designed to enhance the female sexual experience. It may often increase the frequency & intensity of your orgasms!

Feel Your Passion is 100% safe and natural. Designed and tested by Herbal Biochemists, it is formulated to achieve maximum effectiveness and enhance the female sexual experience.

Decreased female libido is a common problem for women of all ages. Physical changes in the body that occur after pregnancy, or at menopause, including hormonal changes, can lead to low female libido. Stress may compound these symptoms and lead to sexual anxiety as well as poor lubrication. Feel Your Passion was formulated with these issues in mind, and many women find that sex can be pleasurable, exciting and once again, just pure fun!

Feel Your Passion is a topical gel that should be applied directly to the clitoris. Its primary active ingredient is an essential amino acid called L-Arginine. When L-Arginine converts into Nitric Oxide through an enzyme found in clitoral tissue, it becomes a potent blood vessel dilator. Feel Your Passion supplies the clitoris with over 100 times the amount of L-Arginine normally found in the tissue. The trace amount of menthol in Feel Your Passion facilitates the permeation of the active ingredient, maximizing clitoral arousal in a safe, non-prescription, all herbal formula.

For those who enjoy oral sex, Feel Your Passion is safe even if ingested. Our scientists went to exceptional lengths to construct a 100% organic formula from the highest quality ingredients, which provides for an overall pleasant experience, including the taste.

Feel Your Passion Designer Pump

The elegant and discrete Feel Your Passion Pump is perfect for your nightstand or fits handily in your purse or pocket book. Contains 30 to 40 exhilarating applications in a sanitized vacuum pump dispenser.

Feel Your Passion - All a woman needs to feel pleasure like never before!

Disclaimer: Feel Your Passion is not intended to diagnose, treat or cure disease or medical conditions. Do not use Feel Your Passion if pregnant. If vulvar irritation occurs, discontinue use. If you've been diagnosed with an STD, consult a physician. Do not use Feel Your Passion if you are pregnant.

Women's Sensual Enhancement Gel

Designed to help you "Feel Your Passion!"

Vastly intensifies orgasms

Improves female libido

Stimulates and increases lubrication

Invigorates overall sexual craving

Maximizes sexual sensations and responses