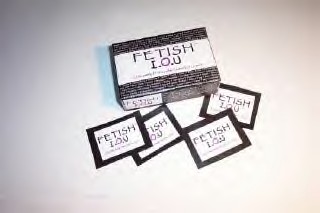 FETISH I.O.U

A deviantly pleasurable game for lovers.

Need some punishment? When was the last time you had a proper spanking?  Do you like the feel of PVC and Leather? Do you miss being tied up? With Fetish I.O.U all of your hidden fetish pleasures will be fulfilled.

Directions: Once, twice or as often as you'd like, you and your lover each exchange a hidden Fetish I.O.U!  Indulge yourselves with forbidden desires as you open each Fetish I.O.U and follow the instructions inside.

Contents: 42 hidden pull-tab cards

PPGFIOU

$7.95