Advanced Sexual Techniques

Book & DVD Set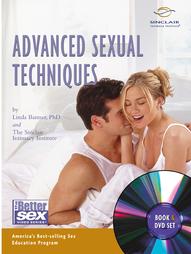 Advanced Sexual

Techniques

Book & DVD Set

Loaded with solid, down-to-earth advice, Sinclair and leading sex therapist Dr. Linda Banner have teamed up to create a companion book to the best-selling Better Sex Video Series' Vol. 2 Advanced Sexual Techniques.

This unique book and DVD Set helps improve every facet of an intimate relationship, from communication to consummation, by providing comprehensive information plus many tips and fun "exercises." Also included is a bonus erotica section.

Published by Running Press. DVD 77 minutes; hardcover book, 160 pages.